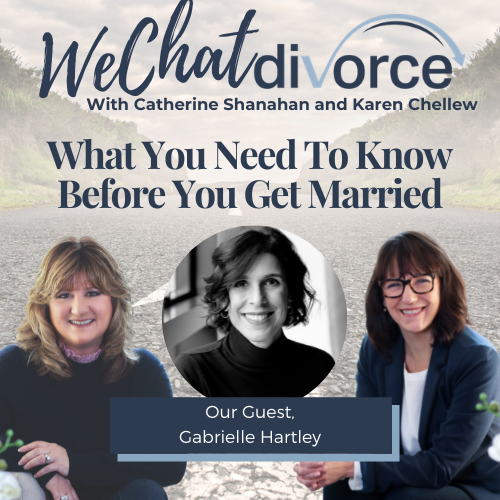 In this episode of We Chat Divorce, we're joined by Gabrielle Hartley to discuss the topic of What You Need to Know Before You Get Married. Here's an overview of Gabrielle's experience:
Gabrielle Hartley, Esq. is a leading online mediator and family law attorney known for keeping 99% of her cases at the settlement table. She is the author of Better Apart; The Radically Positive Way to Separate, which received a glowing recommendation from Gwyneth Paltrow and People Magazine.
Before opening her full-service online mediation and professional training center, Gabrielle clerked in matrimonial court in NYC where she resolved hundreds of high conflict divorces.
She is a sought-after expert in the positive divorce space in media outlets such as The New York Times, The New York Post, U.S. News and World Report, has been interviewed on dozens of podcasts and is a regular guest on NBC Mass Appeals. Gabrielle serves on many committees within the ABA Mediation Access to Justice Week 2020, and co-chair of the DR Just Resolutions Mediation Edition. She is also on the Western MA Mediation and Collaborative Dispute Resolution Steering Committee.
Gabrielle trains divorce professionals in the Better Apart Method Online. In addition to offering training for professionals, she maintains a private mediation practice and is of counsel to Lisa Zeiderman's law firm in Westchester and NYC.
Hosts, Karen, and Catherine sit down with Gabrielle Hartley to discuss what you need to know before you get married.
Learn More >> www.gabriellehartley.com
Connect with Grace on LinkedIn >> @Gabrielle Hartley