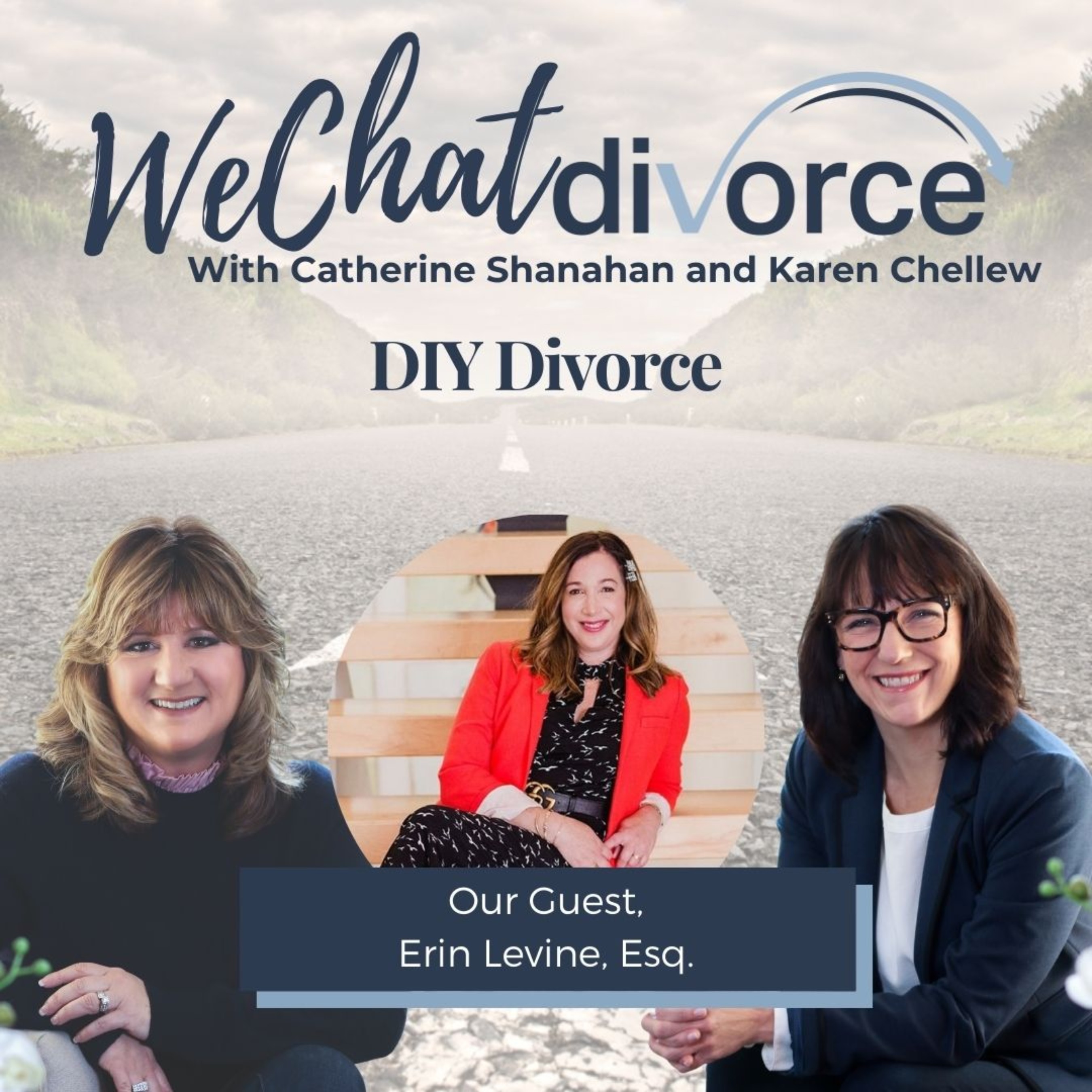 On the newest episode of We Chat Divorce we're joined by Erin Levine, Esq. to discuss DIY Divorce. Levine is a Certified Family Law Specialist, owner of Levine Family Law Group and Founder/CEO of Hello Divorce. Her innovative, disruptive approach to how Americans interact with the law makes her both a loved and feared force in the legal world. With her groundbreaking divorce navigator platform, she's revolutionizing the broken divorce process, making it affordable and available to everyone. Erin's access to justice work has been recognized by the legal industry and beyond, with awards and recognition from the likes of Women Founders Network, Forbes, Vice, and the American Bar Association.
Learn More >> https://hellodivorce.com/about/erin-levine/
Connect with Erin Levine, Esq. on LinkedIn >> @ErinLevine
The We Chat Divorce podcast (hereinafter referred to as the "WCD") represents the opinions of Shanahan, Chellew, and their guests to the show. WCD should not be considered professional or legal advice. The content here is for informational purposes only. Views and opinions expressed on WCD are our own and do not represent that of our places of work. 
WCD should not be used in any legal capacity whatsoever.  Listeners should contact their attorney to obtain advice with respect to any particular legal matter. No listener should act or refrain from acting on the basis of information on WCD without first seeking legal advice from counsel in the relevant jurisdiction. No guarantee is given regarding the accuracy of any statements or opinions made on WCD. 
Unless specifically stated otherwise, Shanahan and Chellew do not endorse, approve, recommend, or certify any information, product, process, service, or organization presented or mentioned on WCD, and information from this podcast should not be referenced in any way to imply such approval or endorsement. The third-party materials or content of any third-party site referenced on WCD do not necessarily reflect the opinions, standards or policies of Shanahan or Karen Chellew. 
WCD, SHANAHAN, AND CHELLEW EXPRESSLY DISCLAIM ANY AND ALL LIABILITY OR RESPONSIBILITY FOR ANY DIRECT, INDIRECT, INCIDENTAL, SPECIAL, CONSEQUENTIAL, OR OTHER DAMAGES ARISING OUT OF ANY INDIVIDUAL'S USE OF, REFERENCE TO, RELIANCE ON, OR INABILITY TO USE, THIS PODCAST OR THE INFORMATION PRESENTED IN THIS PODCAST. 
Karen:
Welcome to We Chat Divorce. Catherine and I are so happy today to welcome attorney and founder, Erin Levine to our podcast. Welcome Erin.
Erin Levine:
Thank you for having me. I always love talking and with both of you, I think it's going to be a great conversation today.
Karen:
I'm so excited. Thank you. Same for us. So in this episode, we're going to discuss insider tips on DIY Divorce. But first I'm going to take a couple minutes and introduce Erin. Erin Levine is a certified family law specialist. She's the owner of Levine Family Law Group and Founder, CEO of Hello Divorce. Erin's innovative, disruptive approach, I love that, to how Americans interact with the law makes her both a love and feared force in the legal world. With her groundbreaking divorce navigator platform, she's revolutionizing the broken divorce process, making it affordable and available to everyone.
Erin's access to justice work has been recognized by the legal industry and beyond with awards and recognition from the likes of Women's Founder Network, Forbes, Vice, and the American Bar Association. I also want to add Erin, congratulations on all the work you and your team have accomplished at Hello Divorce. It's a lot of hard work. We often see your name front and center in legal justice conversations. It's not a secret that the court system of handling divorces in America is in a word broken, and we applaud you for all that you're doing.
Erin Levine:
Thank you. Thank you. That was a beautiful introduction. I appreciate it.
Karen:
Well deserved. We can end the podcast now. That was awesome. So Erin…
Catherine:
Not to cut you off, but all anyone wants to hear is divorce, affordable, fast through your process. Awesome.
Erin Levine:
I hope, yes. I hope that we are really making efforts all of us collectively to make the process friendlier and simple and cheaper and being able to help people figure out when they should be spending money and when they should be saving it and all that good stuff. So, yeah, let's get to it. Let's talk about these tips and I'm really excited.
Karen:
Okay, let's go. So before we dive into the tips, can you tell our listeners a little bit about your story and journey that created the passion for the work you do and how the divorce.
Erin Levine:
Yes, absolutely. The vast majority of people divorce without a lawyer and whether you divorce with a lawyer or without, once you file that initial paperwork, you learn just how broken and impossible the system is to navigate. It is wildly inefficient. And the worst part about it is it sets people up to fight. You are filing a lawsuit. It says in many states, X versus Y. You are instructed to resolve conflict by going in front of a judge and throwing your spouse under the bus.
Erin Levine:
And so that style or that way that we divorce in this country always bothered me and always frustrated me and caused me great concerns for my clients, because the goal of divorce should always be to reorganize your life and your family in a way that makes the most sense for you, where you are setting yourself up for a best next chapter, not destroying everything that ever existed, not focusing on revenge or everything that went wrong in your marriage because your marriage wasn't a failure until you got to that point. For many years, it was a success and a lot of wonderful things came out of it.
Erin Levine:
And so with that, I became a family law attorney because of the concern I had around the system being broken and my own experience navigating the system as a late teen. And I built a law firm, I scaled it, at one time, had 10, 12 attorneys. And we were really doing a lot of great work litigating and negotiating and mediating contested divorces. But what kept on coming back to me is that piece of every time we won, that means somebody lost and that can be so devastating for a family. And I just kept coming back to the point that divorce doesn't have to be a zero sum game. There has to be a better way. So that's when I scaled way back my law firm and started to think through what a new company could look like.
And I founded Hello Divorce to create a platform that transforms the divorce experience into a friendlier, simpler, and cheaper alternative to battling it out in court. What we are primarily focused on right now is legal because everyone who has to get a divorce or everyone who's getting a divorce, excuse me, has to go through the legal process. So we want to make sure that we are helping with that first and foremost, but where we are ultimately going is to help people with many other things that come up throughout divorce, because it's not an event, it is a process and there's issues and all sorts of things that people help with before, during, and after divorce. So we're just starting to explore how we can help in other ways. And that started with our divorce support series that we launched last week. Yeah. So super exciting.
Karen:
Yeah. Awesome.
Catherine:
It's really exciting. As you know, Karen and I have seen the same struggles with the system. Why is it being done this way? And why are families being put through this process? And hearing back that it's the process, it's the system, it's just not good enough for us anymore. And I think the people going through divorce are getting smarter and wiser. It doesn't have to be that way and you hit it head on when you said when an attorney has to file for divorce, the other person is getting sued. I'm suing you for, or I want full custody. Some of that language I understand attorneys have no way around because that's the language, but if you can avoid going that route first, that's the best way to avoid that language.
Erin Levine:
Yes, absolutely. There are a million really well-intentioned lovely lawyers, but once you get yourself into that system, it is really hard to get out and lawyers when they are representing a client, have to follow all the rules. And like you said, sometimes that means using language like you're being sued or we're taking you to court. So to the extent that you can opt out of the system or at the very least set some ground rules with your spouse, or if you guys are represented with the lawyers to try to focus on resolution first, it doesn't mean there won't be conflict because there will always be conflict. That's just the nature of divorce. You've been married for a very long time. You can't unravel that overnight, but to the extent that it is possible to opt out the system, set ground rules or negotiate outside of the court system, that's what we're here for.
Karen:
I love that because I feel a lot of people, maybe most people are either looking for emotional justice or a divorce decree, or they think the moment they hire an attorney is the moment they can hands-off somehow you're going to deliver to me everything I want. And so all three of those are missed. I was just speaking with someone last week and she was just so passionate, just need a divorce, my husband is sending money overseas and he's created all this debt. I just need a divorce. And I said to her you know if you get a divorce and you haven't covered all that territory, you're worse off than you are today. And I don't think she realized that. I think she was just so focused on that divorce decree, that she doesn't even understand that there is a process and it doesn't necessarily have to include the litigation piece of it, but she had to take some steps to help herself.
Erin Levine:
Yes. And no wonder why she's confused. We have been told over and over and over again that there's two ways to do divorce either with the lawyer full representation, balls to the wall, we're going to litigate the heck out of this case or DIY you're on your own good luck. And what we have now learned is that there are so many other options and getting a divorce and feeling successful and feeling that you have that peace of mind that, hey, this wasn't perfect, but I made it through and I'm ready to really embark on my next best chapter doesn't necessarily include legal help. It can include financial health if that's what you need most, it can mean wellness support. There's so many different things. So we want people to take a step back and think about what do I need most, what am I most concerned about? And then take a look and see what those options are. It might be legal. It might not be.
Karen:
I love that. So on that note, Hello Divorce is recognized for disrupting the divorce industry. So can you tell the listeners a little bit about what Hello Divorce is doing? What is it that Hello Divorce is doing to set itself apart in the divorce industry to make a difference?
Erin Levine:
Absolutely. So we created a platform that helps people navigate the legal aspects of divorce. So what that means is in every state, you have lots and lots and lots of procedures, lots of forms that have to get prepared, filed, delivered to the court at appropriate intervals, served on your spouse, just to be able to get divorced. So even if you have a full agreement, you have to follow this path. And so what we've done is make it really easy to be able to do that. So you can use our software to not only prepare the forms that need to be filed with the court, but then also you can level up to obtain any of the services that you feel like you need or want to help you through. So our most popular product/service is DIY Pro. What that is, is you complete all of these questionnaires at your own time.
Erin Levine:
Yeah. Basically on your own time. And when you are done and you've completed each step, there are three steps, a divorce manager jumps in to give you some encouragement, to make sure all the forms are complete, to file them with the court, to coordinate with your spouse and to give you instructions on what comes next. And ultimately that divorce manager is going to ensure that everything gets done timely and properly. And so you are divorced on the schedule that you want it to be.
Erin Levine:
But we also understand that in a lot of cases, people need additional help. So we offer other services that include access to a lawyer for legal advice in increments of 30 minutes or more, or our cooperative divorce program, which includes both spouses and an awesome mediator. So you use our software to travel through, disclose your finances, prepare your legal forms, but you have a mediator who jumps in and helps you resolve any of the issues that might come up that you're stuck on. So that might be some child support. It might be dividing property, but whatever it is, he or she is there to really help you guys come to an agreement so we can get it down on paper and filed with the court.
Karen:
Well, excellent. Yeah. So on that note and because Hello Divorce seems to be doing it really well, currently explain why does divorce costs so much in America? What's going on?
Erin Levine:
So the average cost of divorce in the United States, according to USA Today ranges from between 18 and $25,000 per person if you have children. You would think it would be exponentially less if you don't have kids, but it's still well over the $10-$12,000 mark. So divorce is insanely expensive. And it's a combination of a few things. I think the minute that you lawyer up in that traditional sense, you are sending your spouse a message, even if it's just to protect your own interests, that message, that cultural message is you are in it to win it. And so I always tell our customers that if their spouse has hired a lawyer, it doesn't necessarily mean that. It's okay. And it's healthy for you emotionally, legally, financially to have a lawyer help you through a divorce. But one reason why divorce is really expensive is because A, people lawyer up, and there's that immediate fear and fear has us do really irrational things like sometimes respond by lawyering up with the most aggressive lawyer in town.
Erin Levine:
The other reason is just the complete inefficiency of the legal system and how dated it is. So as an example, there are many courts across the country, even in big cities, that to file a document, you have to have a fax machine, or even if you have a full agreement, you have to do 20-30 forms, especially with the pandemic. Even with online hearings, we see that courts are backed up if there's not an emergency or what they believe is an emergency, it could take you 3, 4, 5, 6 months, even a year before you get into court to resolve something as simple as a temporary order for child support. And then of course, lawyers are taught for the most part to win, and that's what they're paid for. And that's what you expect when you put a lot of money in and any time that it becomes a win/lose situation, we're going to spend thousands and thousands of dollars in court. So those are some of the really big reasons why divorce is incredibly expensive in this country.
Catherine:
And what's so frustrating about that is because that win is defined by what? So if you're the one going through divorce, your attorney may think they won, but did you really win in the end? And that's the [crosstalk 00:16:11] a lot of times we find that individuals do not understand the components of their marital estate and are not able to interpret that. So when it comes to making compromises and knowing what their options are, they can't do that. And so a win to them is not a win if they don't understand what they have and what they're going to do with it. So they're spending all this money on the system and then this process that isn't really working to their benefit, which is why people are so bitter after divorce, which is sad to me.
Erin Levine:
That's right. Unless there's an emergency, there's no reason why a lawyer should be jumping in and filing motions right off the gate. You cannot understand how to dissolve your marital contract, which really is a financial contract until you understand what you have. So the very first thing we should be doing preferably even before the divorce starts, but definitely early on is gathering data. Sometimes one spouse has far more access to that financial data than you do. And it doesn't necessarily mean that that spouse is bad. It could've just been the dynamics in your relationship, but one way or another, you have to have all that in front of you before you can make good decisions on what you're going to compromise on versus what is an absolute necessity for you.
Erin Levine:
And so that has to be the number one goal. What do we have, understanding what those assets are, understanding the ramifications around dividing them or transferring them or equalizing them. And then ultimately making a decision that comes from a place that is educated and informed. That's what I love about what you ladies are doing. It's just absolutely key. And I see a lot of spouses that are trying to rush their spouse to get things done. And ultimately that's just setting everyone up for failure.
Catherine:
Absolutely. If you take that pause and you're able to get that information, it's a matter of then just deciding where everything goes, instead of fighting over what everything is, then you can then hook into your system. And if you need that one-on-one with an attorney or if you need that mediation help, it's there for you. But then if you have all this data that you can make that decision, then you just need the paperwork to do it.
You don't need to sit in front of a judge. I can recall a client who came in, her husband was the judge. And so in finding out all the information and how he ran his financial household, I thought, hell if he was my judge and I was going through a divorce, I'd be mortified. He didn't know how to run his own household, let alone tell me what to do with my household. So there's a lot of that out there that you don't understand. So you're better off standing in your own estate here and figuring that out first.
Erin Levine:
Yeah, no, absolutely. And I think that that point it's going to resonate with a lot of people. And so I just want to expand on a little bit more. Earlier this week, we posted a quote from Adele that we found on E Entertainment news and it said something about how oftentimes when we see a woman get divorced, we picture them as spinning out of control. And she said, but I've never felt so peaceful in my life. And that is so powerful because I think we do that a lot, especially when women are divorcing in their 40's, 50's, or 60's. We as a culture look to them, oh, they're having a midlife crisis or oh something snapped, maybe it's menopause, but it's not okay. But really these women, because we're meeting them by the hundreds are more powerful and more clear than they've ever been in their life.
And they are choosing a path and it's so brave. And so for these women, I just want to remind you that wanting this information, wanting to be clear about what the finances are, wanting to make educated decisions is not being crazy. It's not being unreasonable. It's not being unfair. It's not being litigious. It's really making healthy, positive decisions for you and your family. And I say it because I've seen it a lot. I've done a lot of the mediation in our cooperative divorces. And I've seen it on both sides where one spouse is like, can't we just be done? What's the big deal? I told you how much is in that account. I told you what vested versus unvested means and blah, blah, blah, blah, blah, putting a tremendous amount of pressure on the spouse who's new to the financial picture. And it's not unreasonable to want to be clear. In fact, not being clear could mean destroying your financial wellbeing.
Catherine:
If you say being clear. Being clear is powerful. That's probably the most power that you can give yourself in divorce. If you're clear about a decision that needs to be made, you're making a really smart decision. I say it all the time. Attorneys get their backs against the wall if their clients ask them a lot of questions. If you have an aggressive spouse that handled the finances and you ask a lot of questions, they feel like you're questioning them and they become very defensive.
So I always say, ask as many questions as you want. It's your right. Asking a question doesn't mean you're questioning somebody else. It's your right to have that power. And it'll never go regretfully that you have it to your next chapter as you say.
Erin Levine:
Yes, absolutely.
Karen:
I agree with that. Shifting the power out of other people's hands into your own is so powerful so that when your spouse is saying, I told you all this, you get to decide if you have enough information to verify that, and when your attorney or your mediator or some other professional, it doesn't even matter who says with all this money, do you know how many people would want to be in your shoes?
Well, that's for you to decide. That's not for anybody to decide for you. And so to your point, it's not coming from a place of revenge or a litigiousness or whatever it may be. It comes from a place of knowing. And when you can stand in that truth, you can make super good decisions for yourself and all of that emotion that you may have attached to different assets or whatever it may be just dissipates.
Karen:
And then if you do have to go into litigation, or if you're with a mediator or however you're choosing to move ahead, they have the best information and they have a clear client that they can best help you. And so that's why I love this approach to divorce, because it really does empower people to know the truth and make decisions based on it. Doesn't mean that you have to fight for every last dollar. It just means that you know what it is, and you get to decide what the compromise is.
Erin Levine:
Right. Absolutely. And that's the thing, you get to decide what a win is. And it might not be to fight for that extra $20 or $30 a month in child support that might not be worth it for your peace of mind. It just might not.
Catherine:
What I like about your process also is I always say, yeah, we need attorneys or mediators to help us in the process. Very few cases that you don't need some kind of touch point, but when you go through your process, it's when we need them and for how much time do we need them? And I like that you're able to streamline that process. I know that when we send somebody through our process and they have that financial clarity, yes, now they can go through your process and just connect with the other professionals as needed and then to a completion, in a doable way.
Erin Levine:
I don't want the lawyer to be the center of your case ever. They have a huge caseload. They have so many things that are going on in their lives. Only you know, what's best for you. You should have a lawyer there. Now my caveat of course is if you were in active litigation, having a lawyer on retainer in a full representation capacity is key if you can afford it and make it happen. But for 90% plus of the rest of the world, having a lawyer there when you need one is great, but they cannot be the center of your case. You need to be the center of your case. And so that's why as part of whether you're using our DIY, do it with you, or even do it for you packages that I really want people to start by thinking of their strategy, which might change and putting some really good ground rules in place, if possible. Can I expand a little bit on that?
Erin Levine:
So, I think the conversation around ground rules is really, really tough, especially if one of you have been thinking about divorce forever, and then finally said, I want a divorce. And the other spouse, it's really new to you, like you're just learning about the divorce. It kind of already starts feeling really unfair. And so having that ground rules conversation is really tricky. And sometimes it might not happen right on day one. But if you can at some point sit down, whether it's talking to your spouse directly, talking to your spouse with a third party, like a therapist or a religious leader, or maybe even texts or email if that feels more appropriate, but being able to say, hey, look, I know this is not ideal. I know neither one of us are happy that we are leaving this marriage, but ultimately this is what is going to happen.
Erin Levine:
And so let's talk about what we want this divorce to look like. Do we agree that we will do whatever it takes to stay out of court? Do we agree that we are going to put our kids first? Do we agree that we together will talk to our kids about the divorce? Do we agree that we are going to be open and transparent about sharing finances and coming up with an agreement that works for us versus what the judge tells us is in our best interests? The best thing that happens is you come out of that conversation with some real ground rules that you can always go back to. You could always remind your spouse. Look, I know you hate me right now, I know you're mad at me, but remember, we both believe that the best thing to do is to keep the money with us as opposed to lawyers.
Erin Levine:
But if that conversation doesn't go that well, then at least you've learned more about what your divorce might look like. If your spouse says, you know what, screw you, I'm taking you to court, you're going down, which is the most extreme, but let's just say that happens because I'm sure it happens quite a bit, then you know, okay, I needed to get my ducks in a row. This is not going to be easy. Maybe using the DIY at Hello Divorce is not going to meet my needs. Maybe I need to talk to a lawyer. And at that point we have tons of resources on Hello Divorce that can help you choose the best legal help for you, the best financial help for you as well. So when you're thinking about DIY or you're thinking about how am I going to do this divorce? I always think it's a great idea to start with that initial conversation.
Catherine:
Well, those ground rules and those questions you ask, whether it comes out to be a good conversation or not, it's a realistic conversation. And what I see it as doing, bringing to the forefront of what some possible problems could be. So you're starting off with not a filing of I'm suing you, you're suing me. You're starting off with listen, we're going to agree to put the kids first. And even though you might be saying, shit, he's not going to put the kids first, he never put the kids first, but at least you're putting it out there. You're both saying we're going to agree to that. So you can have all those negative feelings going on in your mind, but you're actually agreeing to at least acknowledge that these issues are coming up. We see a lot in our platform and we provide that unbiased space to share financial data.
Catherine:
A lot of stuff happens in there. They're saying, I'm not giving you that data because he's not letting me have my kids for the weekend. So I'm not giving that data. You see a lot of this playing with the information, but at least I always feel like it's healthy because we give them that time to kind of blow off that steam rather than going to an attorney to start and say, I want to get them for everything that they have, I'm going after everything, when you don't even really know what everything is. So then they can go and do a DYI because they have all of this information and they blew off some of that steam and they're aware of that. So yeah, I think it's a great option and a much healthier option.
Erin Levine:
Yeah, absolutely. And not all the ground rules have to be really stressful and big questions. It could be as simple as one of us is going to have to carry this forward and do a lot of the paperwork or the heavy lifting, which one of us is better at doing that, which one's more committed to following through on things like that? And so it could be simple and other things like how are we going to communicate? When are we going to communicate about divorce-related issues? Because I don't know about you, but I don't want this divorce to take over my life. It's already a really big deal. So can we say that when we're with the kids and we're having dinner or whatever situation it is that we're not going to chat about divorce. We're going to leave that for X time or X day. But that can be really helpful too.
Karen:
Yeah. I love that. Love that so much. So last tip here, processing a divorce online. Am I frozen?
Catherine:
You're back.
Karen:
Okay. Erin, processing a divorce online can seem daunting to some individuals. How does Hello Divorce help their clients feel safe, secure and well-represented?
Erin Levine:
Well, part of what we do is really provide clarity, transparency into the process and a clear roadmap from how to get from point A to point B. So instead of using the legal terms or showing you the legal forms, we are explaining to you along the way, we are giving you questionnaires that ask questions in plain English that you can understand so that you're actually not even seeing the forms until they've already been populated. And you have gone through the analysis. So that's a little bit confusing and that it sounds like it's a long time between filling out the questionnaire and getting the forms. You actually get them instantaneously as soon as you're done, but not until you've already gone through the questionnaire and the process. The other thing that we really do is make ourselves available. We understand that software is super helpful.
Erin Levine:
Technology is incredibly amazing and we lack that big time in the legal profession. And so to have that available to consumers, people love that, but divorce is major. Major on a emotional, financial, and legal level. And so we make ourselves available to help, whether that's asking questions on our chat bot, if you're a DIY pro member above, you always have a divorce manager that you know you can go to and ask questions and connect with. And then also having lawyers and mediators available when necessary or when you think it will be helpful. We have loads of resources breaking down really big concepts into smaller, more digestible downloads. Everything from a list of all the settlement terms that you should consider negotiating to templates for co-parenting plans and a divorce worksheet to get yourself organized and make sure you're not missing anything when you ultimately go to negotiate that final agreement.
Erin Levine:
The other thing that we do is break divorce down into three steps. So the court might say there's a hundred steps or your lawyer might not have even organized the divorce into steps. But what we've done is we've broken it into three steps designed to help not just get through the legal process as quickly and easily as possible, but also to help with your morale and to help you feel like you're making progress. So step one and step two, really have to do with filing the divorce paperwork, especially if you're in a state with a waiting period, because we want you to get that waiting period going and getting your financials out. If you've been able to do those two things, then you're two-thirds done. You can look at your spouse and say, hey, we're getting close to the finish line.
Erin Levine:
And you have been able to cooperate to do what many believe is the hardest part. The last step is coming to an agreement and getting that agreement down in paper to file it with the court. And by the time people get to step three, it doesn't feel quite as emotional or scary. They've been able to get the resources that they need from the site. They've been able to use our software and get comfortable with it. So they're really set up to get through that final step and on with their life. So we're always changing, iterating on our product based on the data that we get from thousands and thousands of users, which is exciting too because we can then take that data and use it to our advantage to create an even better product for our consumer, our clients.
Karen:
That's fantastic.
Catherine:
Awesome.
Karen:
I'm inspired to say the least. So Erin, how can our listeners and viewers find you at Hello Divorce? I think it's fairly obvious, but it's good to just put it out there just in case it's not.
Erin Levine:
Yeah. So we're at hellodivorce.com. Our handle is @HelloDivorce. I would encourage anyone who's feeling like they need some extra motivation, community or tips to follow us on Instagram @HelloDivorce. You can find me on LinkedIn and Twitter. My name is Erin Levine, L-E-V-I-N-E.
Karen:
This concludes our conversation with Erin Levine on DIY Divorce. We really valued our conversation with Erin and look forward to more conversations in the future. If you enjoyed this episode be sure to subscribe and leave a review. We love to hear your feedback!