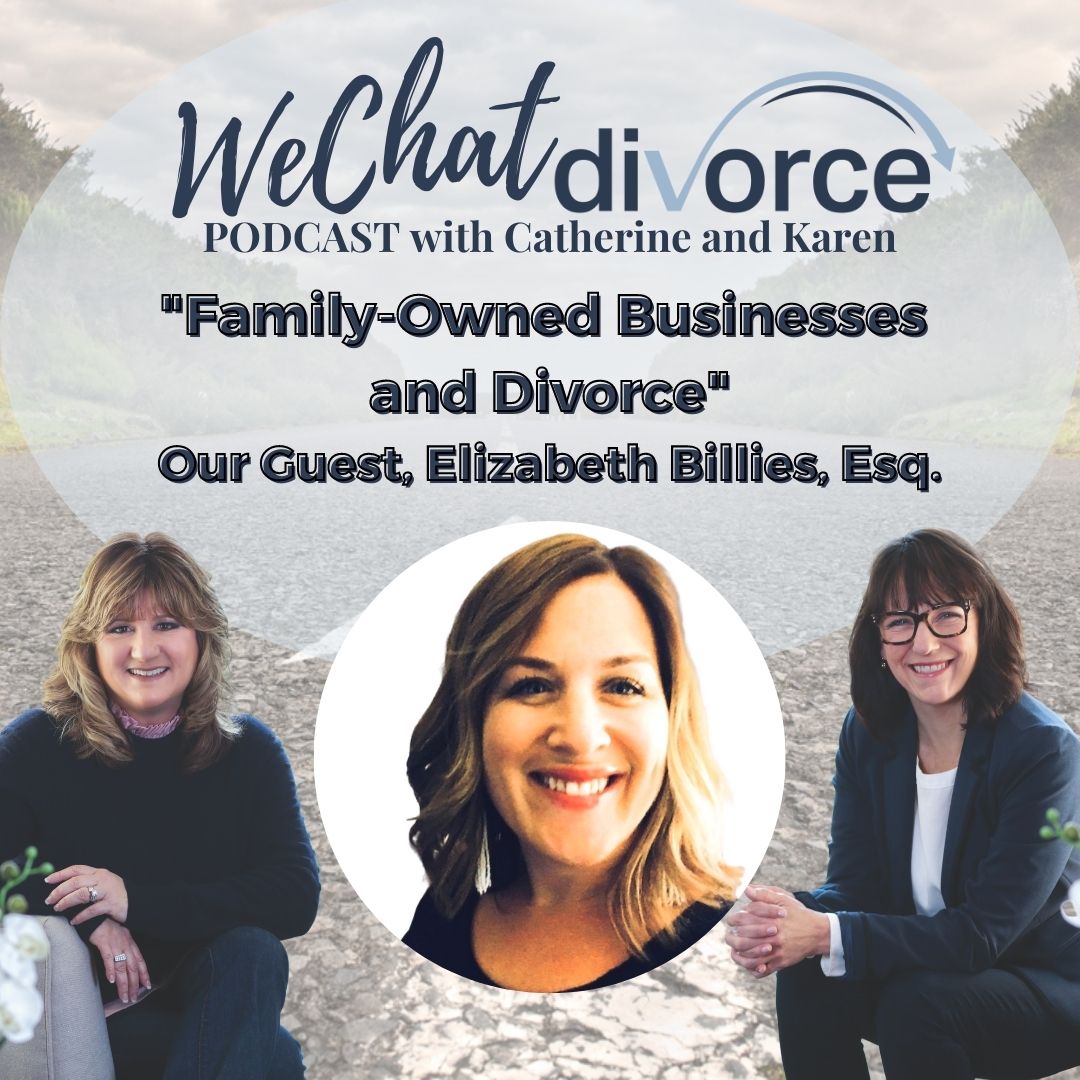 This month we welcome Elizabeth (Liz) Billies to The We Chat Divorce Podcast!
Liz has been working as a divorce attorney in suburban Philadelphia at the firm of Dischell Bartle and Dooley, P.C.  During this time, she's represented hundreds of men and women going through separation and divorce. In doing so she has learned a few (maybe more than a few) things about relationships and the divorce process. In addition, to her family law practice, Ms. Billies also operates her blog, the Divorce Lawyer Life, where she provides her readers with practical tips to help them expertly navigate the divorce process to their best post-divorce life. 
In this episode, we're going to be discussing family-owned businesses and divorce.
Let's Chat...
Generational family-owned businesses
Husband and wife owned businesses
What to look for (books & records)
What to listen for ( what is your spouse saying about the business)
and much more!
If you have questions for us or a topic you'd like us to cover, contact us at hello@mydivorcesolution.com or visit MyDivorceSolution.com 
The We Chat Divorce podcast (hereinafter referred to as the "WCD") represents the opinions of Catherine Shanahan, Karen Chellew and their guests to the show. WCD should not be considered professional or legal advice. The content here is for informational purposes only. Views and opinions expressed on WCD are our own and do not represent that of our places of work.
WCD should not be used in any legal capacity whatsoever.  Listeners should contact their attorney to obtain advice with respect to any particular legal matter. No listener should act or refrain from acting on the basis of information on WCD without first seeking legal advice from counsel in the relevant jurisdiction. No guarantee is given regarding the accuracy of any statements or opinions made on WCD.
Unless specifically stated otherwise, Catherine Shanahan and Karen Chellew does not endorse, approve, recommend, or certify any information, product, process, service, or organization presented or mentioned on WCD, and information from this podcast should not be referenced in any way to imply such approval or endorsement. The third party materials or content of any third party site referenced on WCD do not necessarily reflect the opinions, standards or policies of Catherine Shanahan or Karen Chellew.
WCD, CATHERINE SHANAHAN AND KAREN CHELLEW EXPRESSLY DISCLAIM ANY AND ALL LIABILITY OR RESPONSIBILITY FOR ANY DIRECT, INDIRECT, INCIDENTAL, SPECIAL, CONSEQUENTIAL OR OTHER DAMAGES ARISING OUT OF ANY INDIVIDUAL'S USE OF, REFERENCE TO, RELIANCE ON, OR INABILITY TO USE, THIS PODCAST OR THE INFORMATION PRESENTED IN THIS PODCAST.